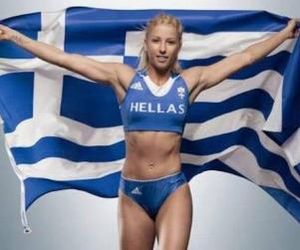 Voula Papachristou was kicked off Greece's Olympic team on Wednesday for making a racist, derogatory comment on her Twitter account.
Why did her insensitive tweet bring about such a harsh punishment? Well, according to the
Times Union
, because she made " statements contrary to the values and ideas of the Olympic movement."
Papachristou, an unapologetic supporter Greece's extreme right Golden Dawn party, posted this controversial message last Sunday:
"With so many Africans in Greece, the West Nile mosquitoes will be getting home food!!!"
As you would expect, the joke was met with something of a negative reaction.That plus her affiliation with Golden Dawn (a party which rose to international infamy a few weeks ago when spokesperson Ilias Kasidiaris smacked a communist woman in the face) ultimately forced Greece to seriously reconsider her position on their national Olympic team.