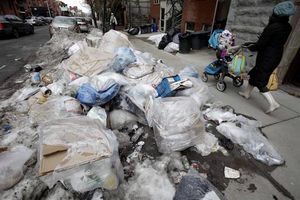 The mountains of snow that have covered the Northeastern landscape for the past month and a half are finally melting, revealing oozing lumps of garbage, gaping potholes, bicycles, rat-infested sofas, discarded Christmas trees - even bodies.
More than 57 inches of snow has fallen on New York City this winter, its snowiest January ever, and the story is similar elsewhere around the Northeast.
Residents welcomed warmer weather this week before an expected plunge back into the freezer, but they weren't so thrilled about the side effects.
"This is disgusting. I can't tell if it's snow or garbage or some sick other thing," said Karen James, 34, finding discarded bills, paper cups and sludge in the shrinking mound of snow and ice covering her car. "This stinks."
Since a post-Christmas blizzard dumped more than 2 feet of snow on parts of the city, the snow piles have become as familiar as taxis to New Yorkers, forcing pedestrians to weave single-file through snow-packed sidewalks.
Two bodies were found in vehicles last week. In both cases, a passer-by spotted someone slumped over the wheel after snow melted away from the windows. One man was found dead Feb. 1 of an apparent gunshot wound; he had been reported missing a week earlier. And on Friday, a day after he was reported missing, a man was found dead in the driver's seat of a BMW. Authorities believe he may have died of carbon monoxide poisoning.
At least one other body was discovered in the New York area in late January, in a parking lot in West Nyack. The man had been dead of hypothermia for several days before anyone noticed, police said.
The city Sanitation Department is responsible for plowing streets and crosswalks, while residents and businesses are expected to clear sidewalks. After grousing for weeks about the city's failure to plow enough snow, many New Yorkers are now griping about the
garbage piles and big pieces of furniture, some crawling with rats.