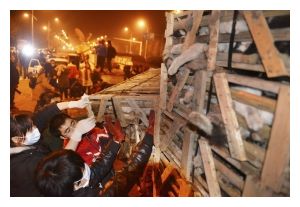 A car accident in China saved over 1,000 cats from being shipped off to restaurants to be slaughtered as cat meat.
Animal activists in Changsha, the capital city of China's Hunan province had time to free the starving cats crammed in some 40 cages after the truck hauling over 1,000 felines destined for restaurants in Guangdong got in a traffic accident, Care for Chinese Animals reports.
The accident delayed the journey by 24 hours, which allowed 50 locals to rescue the animals. Apparently, while the truck was stranded by the side of the road, a call went out through the social network Weibo (the Chinese version of Twitter) for all Changsha residents who were willing to save the cats.
Some of the cats died in the accident, but the survivors had been nursed with food, water and milk before being sent to Changsha Small Animal Protection Association for treatment.
Cats in China can spend months stuffed 25 at a time inside small 2ft by 3ft cages. While many of the animals die before they reach their final destination, the cats are usually sold to restaurants for about $1 or $2 or less if they are bought in bulk.