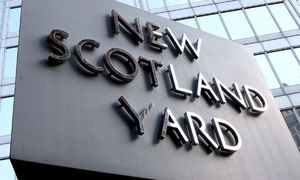 Women activists are to blockade Scotland Yard today, intending to demand to know the identity of any undercover police who have infiltrated their organisations.
As evidence
continued to emerge
of police officers having had sexual relations with people they were monitoring, the women said they wanted to know if they had been "abused" by police.
Though senior police insisted that sleeping with activists during such operations was banned, a former agent claimed such "promiscuity" routinely had the blessing of commanders.
The activists' concerns follow the revelation that the undercover
PC Mark Kennedy
had sexual relationships with several women during the seven years he spent infiltrating environmental activists' groups. Last week the Guardian identified more officers who had sex with the protesters they were sent to spy on. One officer, Jim Boyling, married an activist and had two children with her.