Shocking stories of deaths emerge as the military is enlisted to help at the Fukushima Daiichi nuclear plant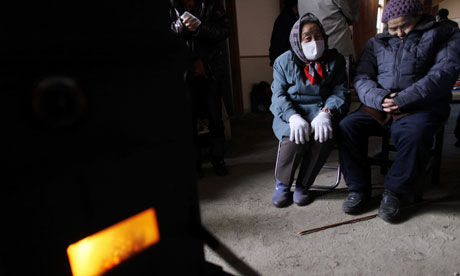 The devastating impact of the Japanese earthquake on the country's ageing population was exposed on Thursday as dozens of elderly people were confirmed dead in hospitals and residential homes as heating fuel and medicine ran out.
In one particularly shocking incident, Japan's self-defence force discovered 128 elderly people abandoned by medical staff at a hospital six miles from the stricken Fukushima nuclear plant. Most of them were comatose and 14 died shortly afterwards. Eleven others were reported dead at a retirement home in Kesennuma because of freezing temperatures, six days after 47 of their fellow residents were killed in the tsunami. The surviving residents of the retirement home in Kesennuma were described by its owner, Morimitsu Inawashida, as "alone and under high stress". He said fuel for their kerosene heaters was running out.
Almost a quarter of Japan's population are 65 or over, and hypothermia, dehydration and respiratory diseases are taking hold among the elderly in shelters, many of whom lost their medication when the wave struck, according to Eric Ouannes, general director of Doctors Without Borders' Japan affiliate.
This comes after Japan's elderly people bore the brunt of the initial impact of the quake and tsunami, with many of them unable to flee to higher ground.
Although the people from the hospital near Fukushima were moved by the self-defence forces to a gymnasium in Iwaki, there were reports that conditions were not much better there. An official for the government said it felt "helpless and very sorry for them". "The condition at the gymnasium was horrible," said Cheui Inamura. "No running water, no medicine and very, very little food. We simply did not have means to provide good care."