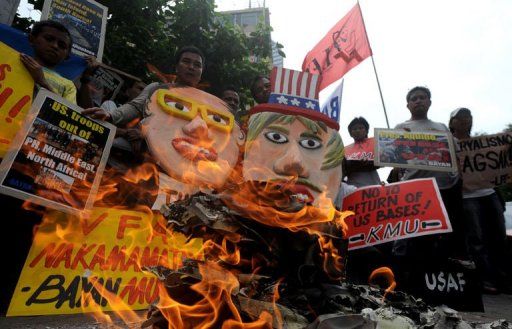 Manila - Philippine activists picketed the US embassy on Saturday and burned a cardboard American flag and mock stealth bomber, vowing to launch a campaign opposing a plan to allow more US troops in the country.
About 50 members of the leftist New Nationalist Alliance (Bayan) also held a huge effigy of Uncle Sam with another of Philippine President Benigno Aquino labelled as his "dog", as riot police prevented them from approaching the mission.
"If we allow more US troops to enter our country, the entire archipelago will be transformed into one military outpost for US hegemonic interests," Bayan said in a statement distributed at the rally.
Philippine officials have welcomed plans for a greater presence from the military of its former colonial ruler, seeing it as a counterbalance to recent Chinese aggressiveness in the South China Sea.
China and the Philippines have territorial disputes over the South China Sea and Manila has accused Beijing of using intimidation to press its claims.