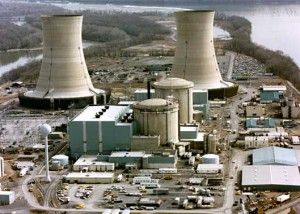 Lacey, New Jersey - A sleepy New Jersey town has popped onto people's radar screens because it has the oldest running nuclear power plant in the United States -- and, some say, the most dangerous.
Named for a Revolutionary War general, Lacey is the kind of American town that few from outside the seaside settlement knew much about before the earthquake and tsunami in Japan triggered a nuclear crisis.
Down the road from the 1950s-style diner and across from the bridge that locals use as a fishing pier stands the Oyster Creek nuclear plant.
It uses a GE Mark I Boiling Water reactor identical to those that lost power at Japan's Fukushima plant in the March 11 earthquake and then was struck by a tsunami that knocked out its backup generators, causing reactor cooling functions to fail.