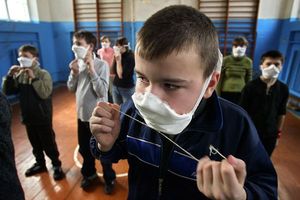 "Unexpected" findings suggest bomb tests, plant accidents boosted male births.
Nuclear radiation from bomb tests and power plant accidents causes slightly more boys than girls to be born, a new study suggests. While effects were seen to be regional for incidents on the ground, like Chernobyl, atmospheric blasts were found to affect birth rates on a global scale.
The result: Millions fewer females have been born worldwide than would otherwise be expected, researchers estimate. And given Japan's current nuclear troubles, another boy boomlet could be on the way, experts say.
For the new study, scientists analyzed population data from 1975 to 2007 for 39 European countries and the United States.
They found an increase in the number of male births relative to female births in all of the countries investigated from 1964 to 1975 - and in many eastern European countries for several years after 1986.