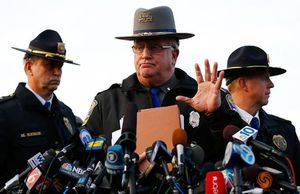 Following the killing spree at Sandy Hook Elementary School some social media users took to Twitter to spread false information about the shootings.
Connecticut officials cautioned against the spread of false information on social media sites in the wake of Friday's massacre.
Anyone who posts fake material about the rampage at Sandy Hook Elementary School or killer Adam Lanza could face arrest, Connecticut State Police spokesman Lt. J. Paul Vance said at a press conference Sunday.
"There has been misinformation coming from people posing as the shooter in this case, using other IDs, mimicking this crime and crime scene," Vance said, adding that some of the posts are of a "threatening manner."
"It's important to note that we have discussed this with federal authorities. These things are crimes. They will be investigated and prosecuted."