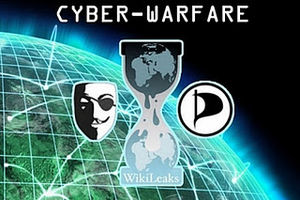 "An eye for an eye makes the whole world blind." - Gandhi
The cyber war escalated to a whole new level yesterday. The U.S. government shut down the popular website MegaUpload at the behest of corporate interests. The Feds
accused MegaUpload
of stealing $500 million in potential lost revenue from copyright holders.
Almost immediately, the hacktivist group Anonymous
retaliated
by launching massive DDoS attacks on several websites including the US Copyright Office, Department of Justice, FBI.gov, Universal Music Group, Music Picture Association of America, and the Recording Industry Association of America. The attack called "Operation MegaUpload" is also said to be targeting Whitehouse.gov.
Many Internet freedom and privacy activists are cheering Anonymous' assault against the U.S. Government and the corporate interests that control it. But I'm getting the eerie feeling that Anonymous is playing right into the hands of those who wish to control and censor the Internet.