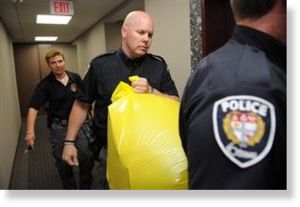 Canada - Ottawa police say a second package containing a body part has been found just hours after a stunned Conservative party receptionist opened a blood-soaked box containing a human foot.
The first was found Tuesday morning in a package that had been delivered to the party's headquarters a few scant blocks from Parliament Hill.
As a result of further investigation, Ottawa police said Tuesday night that they intercepted a second suspicious package containing another human body part.
Police released no other details about the second find, and said the major crime section continues to investigate.
Tuesday morning's macabre discovery led to a pre-noon call to police and paramedics about a suspicious package.
The first officers to arrive on the scene spotted blood splattered on the package and immediately called in the hazardous-material unit. When the specialists opened the package, police found the severed appendage inside.
"Upon arrival, officers noted that the (box) package possibly had blood stains on it," Ottawa police said in a statement.
"The Hazmat Unit and Emergency Operations Section were called and upon further inspection of the package it was determined that there was possibly a human foot in the box."
Police said the package was addressed to the Conservative Party of Canada and not to a specific person.