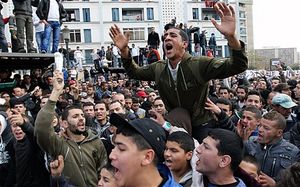 Internet provision was blocked in parts of Algeria and there were claims of Facebook accounts being deleted as thousands of pro-democracy demonstrators were arrested in violent street demonstrations.
The Algerian government was blamed by protesters for preventing access to internet providers across much of the capital, Algiers, and other cities including Annaba for much of Saturday morning and afternoon in an attempt to prevent planned demonstrations gathering pace.
Plastic bullets and tear gas were used to try and disperse large crowds in major cities and towns, with 30,000 riot police taking to the streets in Algiers alone.
There were also reports of journalists being targeted by state-sponsored thugs to stop reports of the disturbances being broadcast to the outside world.