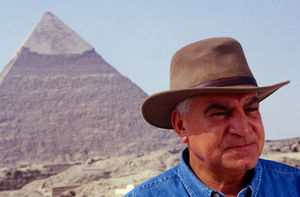 The man in charge of Egyptian antiquities starred in a TV show about his exploits, sports an "Indiana Jones"-style fedora and triumphantly declared that the nation's heritage was mostly unscathed after the revolt that toppled the president.
On Monday, however, he was under siege, the target of angry protesters who want him to quit.
"Get out," a crowd of 150 archaeology graduates chanted outside the office of Antiquities Minister Zahi Hawass, who threw in his lot with the old order when he accepted a Cabinet post in the last weeks of Hosni Mubarak's rule.
Whether Hawass, entrusted with preserving Egypt's museums and monuments, will go the way of Mubarak and resign is uncertain. But the scorn directed him at personifies the messy business of transition in a nation, now ruled by the military, where much of the old governing structure remains intact.
The demonstration in a leafy enclave of Cairo was one of many protests and strikes that have sprung up in Egypt as people voice their grievances for the first time after Mubarak's heavy-handed reign over the last three decades.