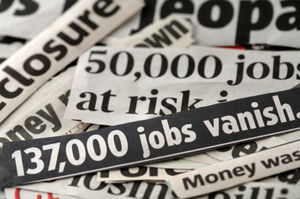 New claims for unemployment benefits took an unexpected jump in the latest week, raising more concerns about the struggling job market and providing further incentive for the Federal Reserve to jump in and help the economy.
The Labor Department reported Thursday that seasonally-adjusted initial claims rose 4,000 to 372,000. That's compared to a decline of 1,000 that economists on average had been expecting.
The data keeps pressure on President Barack Obama ahead of his November re-election bid. His Republican challenger is trying to focus voters' attention on a lofty unemployment rate that has dogged Obama's presidency.
"It's not a great number. The trend for jobless claims has been flat and has been erratic of late. But overall it does keep the odds for more quantitative easing from the Fed," said currency strategist Brian Kim of RBS Securities.