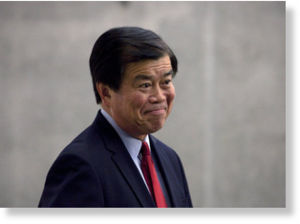 Congressman David Wu, who earlier this year apologized for bizarre behavior during his most recent re-election campaign, was facing calls for his resignation on Saturday over yet another crisis - a young woman's reported accusation that she had an "unwanted sexual encounter" with the Democrat three weeks after his election victory in November.
Wu's spokesman, Erik Dorey, said the seven-term Democrat had a telephone conversation on Saturday with House Democratic Leader Nancy Pelosi about the allegation, which was first reported by
The Oregonian
. Dorey would not comment on the substance of the conversation. An aide to Pelosi declined Saturday to comment on Wu.
Late Friday, the 56-year-old Wu issued a one-sentence statement about
The Oregonian
's report: "This is very serious, and I have absolutely no desire to bring unwanted publicity, attention or stress to a young woman and her family."
Pressure was building on Wu to address the allegation publicly. There also were calls for his resignation.