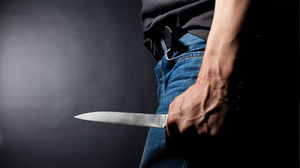 The recent home invasion and vicious attack on a lesbian woman in Lincoln, Nebraska is being described by the Human Rights Campaign as "truly horrific." The LBGT rights organization is calling on federal authorities to investigate the alleged hate crime.
CNN reported
that three masked men allegedly broke into the 33-year-old woman's home early Sunday morning, tied her up, and carved words into her arms and stomach with a knife. One of the words
included the derogatory slur "dyke."
The men also spray-painted anti-gay graffiti inside the home and set the house on fire. Police said the fire did little damage.
The woman fled bound, naked and bleeding to her neighbor's house.