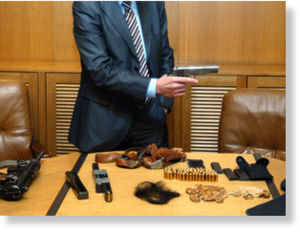 A World War II vet says he was tied up and shot twice during an attempted burglary earlier this year inside his California home. The accused criminal sees things differently, though, and now wants to file charges of his own.
Samuel Joseph Cutrufelli, 31, is on trial for attempted murder after allegedly shooting 90-year-old Jay Leone in the jaw and the back during a home robbery-gone-wrong back in January. When Cutrufelli attempted to flee Mr. Leone's home after things went awry, though, the nonagenarian managed to make off firing a few rounds of his own.
According to Mr. Leone's take, he was tied up by Cutrufelli at gunpoint and left to watch while the suspect snuck around the Greenbrae, CA residence attempting to empty it of anything of value. Leone soon managed to wiggle himself free though, then pleaded with the suspect to let him use the bathroom. On the way, he found one of five handguns stored throughout the house and approached the criminal during mid-burglary.
Cutrufelli, Leone says, fired first.
"The .45 hit me right in the face here and went through the back of my head," the vet told jurors during court proceedings earlier this month. "I didn't feel a thing."
So nonplussed was Leone, in fact, that he managed to fire off a few rounds himself moments after being shot in the face.
"I said, 'F - - you, you son of a bitch, now it's my turn," Leone admitted to the court.