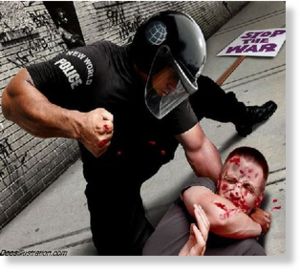 They're not even pretending anymore
.
A three-year investigation into the police's habit of fixing traffic and parking tickets in the Bronx ended in the unsealing of indictments on Friday and a stunning display of vitriol by hundreds of off-duty officers, who converged on the courthouse to applaud their accused colleagues and denounce their prosecution.

As 16 police officers were arraigned at State Supreme Court in the Bronx, incensed colleagues organized by their union cursed and taunted prosecutors and investigators, chanting "Down with the D.A." and "Ray Kelly, hypocrite."

As the defendants emerged from their morning court appearance, a swarm of officers formed a cordon in the hallway and clapped as they picked their way to the elevators. Members of the news media were prevented by court officers from walking down the hallway where more than 100 off-duty police officers had gathered outside the courtroom.

The assembled police officers blocked cameras from filming their colleagues, in one instance grabbing lenses and shoving television camera operators backward.