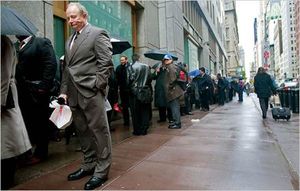 Although America's 25 million unemployed and underemployed could be a powerful force for social change, they aren't combining in any effective way to protest, an eminent business authority writes.
"Activism has given way to acquiescence," writes Louis Uchitelle, even though "unemployment is once again stubbornly high in the aftermath of a recession that has left the economy persistently weak."
Worse for the jobless, unemployment is no longer seen as "a failure of the nation's employers to generate enough demand for workers. That was and still is the reason, but it failed as an explanation and as a prod to action," Uchitelle writes. Instead, "the unemployed are persistently blamed for their own unemployment, which eases pressure on government to help them."
Uchitelle, who covers economics for
The New York Times
, writes that the commonly held belief about unsuccessful job-seekers today is "if only they acquired enough education and skill" they would be hired.