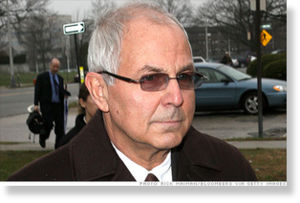 Imposing a sentence that had been
agreed to months earlier
, at a Thursday hearing that gave victims a chance to make their feelings known, a federal judge in Manhattan gave Peter Madoff a 10-year prison term for his role in his brother Bernard Madoff's infamous Ponzi scheme.
An attorney by training, Peter Madoff, now 67, served as chief compliance officer for a swindle that reportedly cost investors nearly $20 billion in principal and previously earned mastermind Bernard Madoff, now 74, a 150-year term. The younger brother admittedly falsified books and records for the purported hedge fund that served as a front for the Ponzi scheme operated by Bernard Madoff's investment firm, but said he had no idea that a wholesale fraud was ongoing on his watch, according to
Bloomberg
, the
DealBook
page of the
New York Times
and
Reuters
.
As investigators found after the fraud came to light, the hedge fund, despite purportedly purchasing large amounts of stock, had made no trades whatsoever for years. Thus, any effort, either by Peter Madoff or the U.S. Securities and Exchange Commission, which several times looked into the Madoff firm's operations, to spot-check claimed stock purchases should have revealed the swindle some time before Bernard Madoff confessed it to his sons in late 2008. By that time, the scheme's assets had dwindled to $300 million and Peter Madoff reportedly participated in a plan to pay out those funds to employees, family members and friends. However, Bernard Madoff's sons alerted authorities and the firm collapsed before the payouts were executed.
U.S. District Court Judge Laura Taylor Swain also ordered Madoff to pay $143 billion in restitution, which will strip him of assets and, the judge said, assure his "financial ruination," although he has no realistic prospect of paying this amount.