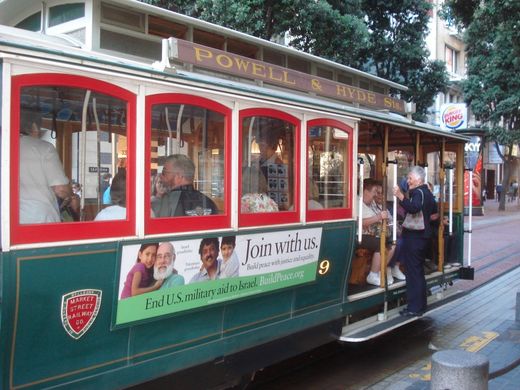 Campaign to end US aid to Israel expands to San Francisco cable cars
A new series of ads calling for an end to U.S. military aid to Israel now greets commuters, tourists, students, and shoppers traveling on the San Francisco Bay Area's public transit systems.
The ads, part of a growing national campaign, went up this week on the Powell Street cable car, a popular tourist attraction in downtown San Francisco; in three of the busiest stations on the Bay Area Rapid Transit (BART) - San Francisco's Civic Center, 12th St. Oakland, and Downtown Berkeley; and on the Muni level of the Embarcadero station in San Francisco. Next week the same ad will be posted in the 16th St./ Mission station in San Francisco.