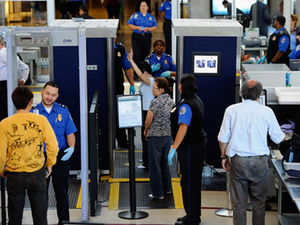 If you were ever hesitant to walk through TSA's nude scanners at an airport, you had good reason: A former TSA employee has revealed that fellow officers frequently laugh at the sight of passengers' naked bodies.
The former Transportation Security Administration agent exposed the disturbing behavior on his blog, Taking Sense Away, after a reader asked him what goes in in the agency's private rooms. The agent, who responds to questions anonymously, said he never heard of anything illegal or inappropriate going on in private screening rooms, but often witnessed agents acting improperly in the image operator (IO) rooms, which is where TSA agents review nude X-ray images.
No surveillance cameras or recording devices are placed in these rooms, making it impossible for private conversations between the officers to be exposed.