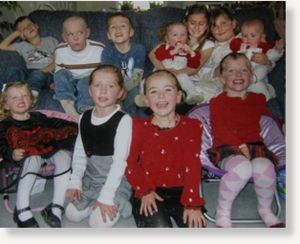 Seven children including a 7-month-old infant perished in a fast-moving fire in a home on a Pennsylvania dairy farm while their mother milked cows and their father dozed in a milk truck down the road, police said Wednesday.
No cause or origin of the fire had been determined by early Wednesday morning, but the children's grandfather, Noah Sauder, told The Associated Press the blaze may have started in the kitchen, where the family used a propane heater. Fire marshals were investigating.
Public records indicate the parents are Theodore and Janelle Clouse. A neighbour described the family as hard-working.
Police said the children's father had left the two-story home on a working farm in dairy country not far from the state capital, to begin his rounds hauling milk around 10 p.m. Tuesday. Two children, ages 2 and 3, were watching television at the time.
The father picked up milk and then parked the truck about a mile from home before nodding off, state police Trooper Tom Pinkerton said.
Soon after, the 3-year-old smelled smoke in the home and ran to the barn to alert her mother, who apparently tried to get into the house. The woman then ran to the homes of two neighbours before getting someone to call firefighters, then ran with the child to the father's truck and banged on its windows, screaming that their home was on fire, he said.