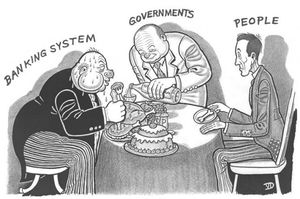 Is there a plan B? That question is usually asked of governments regarding their attempts to 'save' the banks domiciled in their country. But has anyone asked if the banks have a plan B?
Does anyone think that if our governments fail to keep to their austerity targets and fail to keep bailing out the banking sector, that the banks will just shrug and say, "Well, thanks for trying" and accept their fate? Or do you think the banks might have a Plan B of their own?
First let's be clear about Plan A. That plan is to enforce an era of long-term austerity cuts to public services, in part to cut public expenditure so as to free up money for spending on the banks, but perhaps more importantly to further atrophy public services so that private providers can take over. A privatization of services which will bring great profits and cash flow to the private sector and to the banks who finance them, and a further general victory for those who feel that private debts rather than public taxes should be what underpins our national life and social contract.