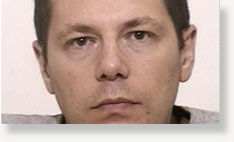 Toronto police have charged a male nurse employed at a city-run long-term care facility with sexually assaulting a 70-year-old resident.
Leonid Kozlov, 45, who works at Castleview Wychwood Towers, near Christie and Dupont streets, was arrested Monday.
A woman was allegedly assaulted as she lay in her bed at about 3 a.m. ET on Monday, police said.
Another staff member reported the assault.
Kozlov has worked at the home for five years, police said.
"I felt a little sick to my stomach," said a resident who did not want to be identified because staff told her not to talk to the media.
She said she was shocked when she saw a picture of Kozlov.
"He's kind, he's nice. Never, never would I ever suspect him."