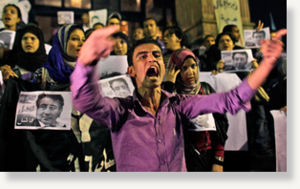 Three stalwarts of the deposed Egyptian president are greeted by angry crowd at courthouse
Three former stalwarts of Hosni Mubarak's regime have appeared in a Cairo court to face charges ranging from abuse of state power to squandering public wealth.
The trio - former housing minister Ahmed Maghrapi, former tourism minister Zuheir Garana and Ahmed Ezz, steel tycoon and one-time secretary general of Hosni Mubarak's NDP party - arrived in police cars clanging with the sound of pelted stones and got out at the courthouse to a chorus of deafening insults.
"Here are the thieves!" yelled some members of the angry crowd; "Liars! Dogs!" taunted others. Inside, the defendants, clad in plain white jail uniforms, were forced to stand in a metal cage.
Their appearance came after Egypt's ruling army generals widened their corruption investigations to include two dozen other former regime stalwarts, from prominent politicians to leading lights of the business world.
"The supreme council of the armed forces strongly believes that freedom and the rule of law, supporting values of equality, democracy, social justice and uprooting corruption are the basis of any ruling system in the world," said a military statement.
The armed forces are walking a tricky tightrope in post-Mubarak Egypt, trying to balance the generals' desire for stability with an explosion of ground-level political and economic expectations that has penetrated every corner of the country.
Critics of the military argue that stability is merely a byword for maintaining the status quo. The army's stance on the prosecution of Mubarak regime officials is seen as a litmus test for the generals' promises of reform.