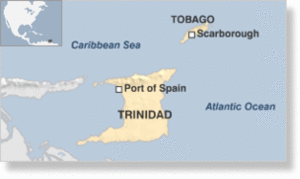 A limited state of emergency is in force in several areas of Trinidad, as the government moves to tackle a recent spike in violent crime.
The measures, announced on Sunday by Trinidad and Tobago Prime Minister Kamla Persad-Bissessar, include an overnight curfew.
She said they were targeting what she called "hot spots" as part of efforts to tackle "wanton acts of lawlessness".
The opposition said it was a "panic response" by the government.
The declaration of emergency rule in six areas in Trinidad, which will last 15 days, came after the country saw 11 murders in just a couple of days.
Ms Persad-Bissessar said the killings were a reaction by drug gangs to recent major seizures by the police of consignments worth millions of dollars.