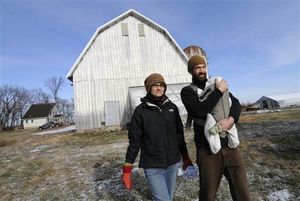 While fresh demographic information on U.S. farmers won't be available until after the next agricultural census is done next year, there are signs more people in their 20s and 30s are going into farming: Enrollment in university agriculture programs has increased, as has interest in farmer-training programs.
The young entrepreneurs typically cite two reasons for going into farming: Many find the corporate world stifling and see no point in sticking it out when there's little job security; and demand for locally grown and organic foods has been strong enough that even in the downturn they feel confident they can sell their products.
Farming is inherently risky: Drought, flooding, wind and other weather extremes can all destroy a year's work. And with farmland averaging $2,140 per acre across the U.S. but two to four times that much in the Midwest and California, the start-up costs can be daunting.
Still, agriculture fared better than many parts of the economy during the recession, and the U.S. Department of Agriculture predicts record profits for farmers as a whole this year.