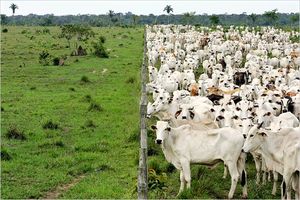 The insiders know, they see it coming. A spike in food prices is just around the corner. Here's what Drovers Cattle Network is
telling
farmers:
Americans have spent less than 10 percent of their disposable income on food for many years now. That's about to change. Food prices are on the rise and there will be new records set for some, actually many goods, this year. Meat, dairy and poultry prices are among the products on pace to set records.

While the general inflation rate was nearly zero in 2010, food and fuel presents another story. Predictions for 2011 food inflation range from 3 percent to 6 percent, with some estimates in recent days pushing into the double digits.

This will come at a time when gasoline and energy prices also are on the rise - oil is projected to reach beyond $100 per barrel....Consumers will see higher prices in the supermarket and hear about record commodity prices and will perceive you as riding waves of money.