"A revolution is not a dinner party, or writing an essay, or painting a picture, or doing embroidery; it cannot be so refined, so leisurely and gentle, so temperate, kind, courteous, restrained and magnanimous. A revolution is an insurrection, an act of violence by which one class overthrows another." ~Mao Zedong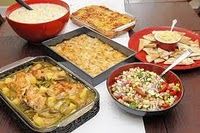 First of all, don't worry, I am not advocating violent overthrow of the Robber Class in this piece - now that your mind is eased (or disappointed), I will go on.
Today, Peace of the Action, and our Re-Creating Revolutionary Communities or Bust Tour is wrapping up near Yosemite in bucolic (and hot), Oakhurst. We began in Eugene, Or. and stopped in Hood River and Newport before heading down to California where we had events in Arcata, Garberville, Fresno and soon in Oakhurst.
At each stop, a community potluck was included and I observed and heard many revolutionary acts being planned by members of each community stemming from the mere act of building community