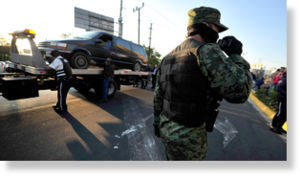 The bound and gagged bodies of 26 men were found dumped before dawn Thursday in the heart of the picturesque city of Guadalajara, a sign that full-scale war between drug cartels may have come to the metropolis that hosted last month's Pan American Games.
Law-enforcement officials said the men were found, shot execution-style, in two vans and a pickup truck abandoned near the Milennium Arches, one of the most recognizable landmarks in Mexico's second-largest city.
Best known as the home of mariachi music and tequila, Guadalajara also sits on the main highway running through western Mexico from the methamphetamine-producing state of Michoacan north toward the Pacific Coast state of Sinaloa. In recent months, security officials and analysts have worried that the city could become a target for the Zetas drug cartel, which has been using paramilitary-style tactics and headline-grabbing atrocities in a national push to grab territory from older organized crime groups.
"These acts of barbarism show how the war between cartels, and crime, is getting more brutal," Guadalajara's mayor, Jorge Aristoteles Sandoval, told reporters.
A message was found with the bodies in one of the vehicles, said Luis Carlos Najera, public security secretary for the state of Jalisco. He provided no details, but Mexican cartels frequently leave threatening messages with the bodies of their victims as a way of sowing fear and taking credit for their actions.