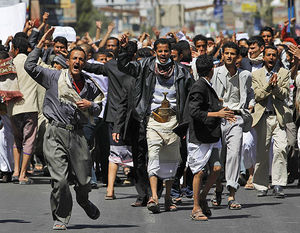 The unrest shaking the Middle East and North Africa showed no signs of calming Friday as protesters determined to overthrow governments and remake a region plagued by corruption, poverty and decades of limited political freedoms continued to confront security forces and regime loyalists.
Uprisings that only months ago would have been unthinkable have engulfed a region desperate to replicate the toppling of leaders in Tunisia and Egypt. So far, the breadth of demonstrations in Yemen, Libya and Jordan have not reached a tipping point.
As in Bahrain, many leaders in the region are relying on the police and military, pro-government propaganda and intimidation to beat back protesters.
But the death toll and the frustrations are growing.
Protests against the 41-year rule of Libyan strongman Moammar Kadafi continued in Benghazi on Friday with opposition forces and government troops clashing violently. The tumult in Libya's second-largest city has taken as many as 35 lives there, according to human rights groups, news agencies and hospital officials.