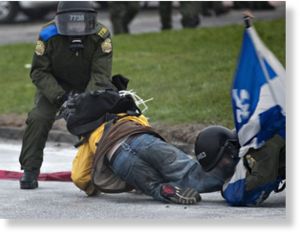 Canada - A tense standoff has ended at Collège Lionel-Groulx in Sainte-Thérèse, Que., this morning, after provincial police tactical officers moved in on a group of students, teachers and parents blocking the school's entrance.
The protest was declared illegal at around 8:30 a.m. ET and protesters were told to disperse.
Authorities were trying to enforce a court injunction allowing some students to return to class. Similar scenes have played out at colleges across Quebec in the past few weeks.
The tactical officers began moving in on the group just after 9 a.m., pulling people out from the mass of demonstrators and arresting them. Tear gas was also fired.
Students flashed peace signs at officers as the group was forced from the entrance, and pushed back across the property by the advancing line of police.