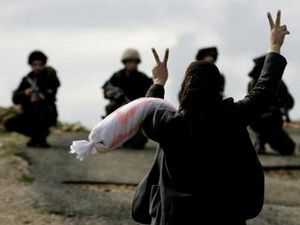 As if it is not insulting to me that an American woman, with absolutely no ancestral, historic, cultural, or biological ties to the land, should announce to me that she needs to do more research to determine whether or not I indeed have a right to inherit my grandfather's farm, reserving, of course, her own right to my grandfather's farm.
I received a lovely letter from a reader who identified herself as a Jewish American. To preserve her anonymity, I'll call her 'Sally'. She wrote that she loved
Mornings in Jenin
, even though the historic backdrop of the narrative did not reconcile with what she learned about Israel growing up. It seemed a heartfelt letter and thus worthy of a similar response. I did not see Sally as a Zionist or even as a Jew. I saw her as a woman, a mother, and a fellow writer. So, I was delighted when she came to my panel debate with Alan Dershowitz at the Boston Book Festival, and when she asked if we could talk more after the event, I was happy to invite her to lunch with a group of friends. She was soft spoken, with a gentle demeanor and through the course of the table conversation, I realized that we also shared similar beliefs regarding some matters of spirituality.
Sally and I continued to correspond occasionally, both privately and with a group of people who were at lunch that day. Soon, she let me know that one of her friends was now questioning her own Zionist beliefs because of something she heard at her Temple. As a result, Sally's friend had chosen a list of documentaries to watch. Naturally, I asked what those documentaries were and she sent a list of about 12 or so films that were made 1) to show how awful Arabs are, 2) to present rosy pictures of normalization of Israel's illegal occupation of the West Bank and Gaza, 3) to show what Israel's aggression against Lebanon was like from an Israeli paratrooper's perspective!, or 4) to depict mixed Arab and Israeli towns as a paradise where everyone is equal.
I find that when people are truly searching to understand, they can find the right sources, especially in this information age. Likewise,
when people are confronted with an uncomfortable reality that jars an existing belief, they can turn around and find what they need to prove that they were right all along.
Reading the list that Sally sent to me, it was easy to see what category she fit into. Here is the response that I sent to Sally:
"If I were trying to get a better view of something, i'd at least look for ones made by third party sources who don't have their own personal beef in the situation. Although with this list, she'll be able to put her head back in the sand and say she did her research and it all proved she was right before."