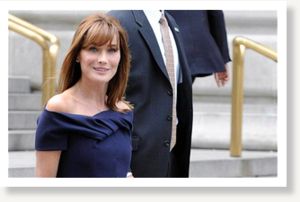 France's first lady, Carla Bruni-Sarkozy, has confessed to no "longer feeling left-wing" after three years of marriage to the country's conservative president, Nicolas Sarkozy.
The supermodel-turned-singer's reputation as a "luvvie Lefty" has been cited as a major handicap to Mr Sarkozy's re-election, and her political change of heart is an attempt to boost support for her unpopular husband among his core Right-wing electorate.
Only two years ago Mrs Bruni-Sarkozy had claimed that she was "instinctively left-wing" after at one stage supporting her husband's Socialist rival in the 2007 presidential elections. She had also publicly opposed Mr Sarkozy's plan to conduct DNA tests on immigrants.