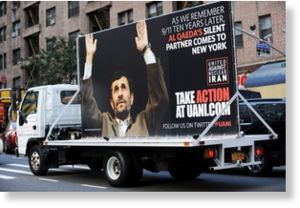 Activists vowed on Monday to greet Iranian President Mahmoud Ahmadinejad with angry protests when he visits New York for this week's United Nations General Assembly.
United Against Nuclear Iran, an advocacy group, has demanded that managers of the upscale Warwick Hotel refuse to host Ahmadinejad and his delegation and have urged a boycott of the international hotel chain.
"Ahmadinejad is not welcome here. His visit to Manhattan is offensive given Iran's heinous track record and its alliance with Al-Qaeda," UANI executive director David Ibsen said in a statement on Monday.
The group also announced that it was launching a mobile billboard, to be driven by truck near the UN and the Warwick hotel for the next several days, that will contain an anti-Ahmadinejad message.
The mobile billboard, which is similar to a stationary billboard that UANI has placed near Times Square, shows Ahmadinejad and says: "As we remember 9/11 ten years later, Al-Qaeda's silent partner is coming to New York."