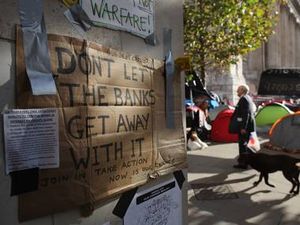 Writing from the very region that produces more clichés per square foot than any other "story" - the Middle East - I should perhaps pause before I say I have never read so much garbage, so much utter drivel, as I have about the world financial crisis.
But I will not hold my fire. It seems to me that the reporting of the collapse of capitalism has reached a new low which even the Middle East cannot surpass for sheer unadulterated obedience to the very institutions and Harvard "experts" who have helped to bring about the whole criminal disaster.
Let's kick off with the "Arab Spring" - in itself a grotesque verbal distortion of the great Arab/Muslim awakening which is shaking the Middle East - and the trashy parallels with the social protests in Western capitals. We've been deluged with reports of how the poor or the disadvantaged in the West have "taken a leaf" out of the "Arab spring" book, how demonstrators in America, Canada, Britain, Spain and Greece have been "inspired" by the huge demonstrations that brought down the regimes in Egypt, Tunisia and - up to a point - Libya. But this is nonsense.
The real comparison, needless to say, has been dodged by Western reporters, so keen to extol the anti-dictator rebellions of the Arabs, so anxious to ignore protests against "democratic" Western governments, so desperate to disparage these demonstrations, to suggest that they are merely picking up on the latest fad in the Arab world. The truth is somewhat different. What drove the Arabs in their tens of thousands and then their millions on to the streets of Middle East capitals was a demand for dignity and a refusal to accept that the local family-ruled dictators actually owned their countries. The Mubaraks and the Ben Alis and the Gaddafis and the kings and emirs of the Gulf (and Jordan) and the Assads all believed that they had property rights to their entire nations. Egypt belonged to Mubarak Inc, Tunisia to Ben Ali Inc (and the Traboulsi family), Libya to Gaddafi Inc. And so on. The Arab martyrs against dictatorship died to prove that their countries belonged to their own people.