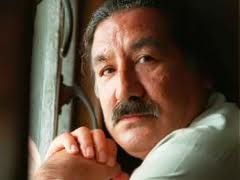 Amnesty International has called on prison authorities at the Lewisburg Federal Penitentiary to reconsider draconian sanctions against imprisoned American Indian Movement activist Leonard Peltier and to improve conditions for Peltier and other inmates held in isolation at the facility.
In an August 3 statement, the human rights organization said it "urged Warden Bledsoe to review Peltier's confinement to isolation, and to ensure that he has an opportunity to fairly contest any charges against him. It has also urged him not to confine Peltier in conditions which may be detrimental to his health, and to give him access to appropriate medical treatment he may need."
Peltier has been held in solitary confinement under oppressively hot conditions since June 27 for minor prison disciplinary violations his attorney maintains he did not commit.