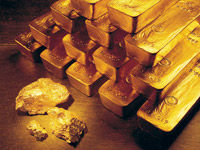 Merrill Lynch has added its voice to the chorus of gold bulls who have been predicting that bullion will hit $2000 an ounce.
Francisco Blanch, Head of Global Commodity & Multi-Asset Strategy Research at the investment bank, says he expects the Federal Reserve to initiate an asset-purchasing program of as much as $500 billion in the second half of the year, which will drive spot gold much higher by the end of the year.
"We think that $2,000 an ounce is sort of the right number," Blanch said on CNBC Asia's "Squawk Box" on Thursday. "We believe that ultimately the Fed will be forced to do quantitative easing. If it happens in September, as our economists expect, we will get a rally sooner in gold. If it happens after the election (in November), we will get the rally a little bit later; probably we will touch $2000 an ounce sometime next year."
Spot gold was trading almost unchanged at $1,569.71 an ounce by 6.14pm GMT on Wednesday and inched up to about $1,572.80 in early Asian trade on Thursday. The metal has fallen nearly 20 percent since touching an all-time high of $1,918 in September last year, as a combination of Europe's debt crisis and concerns over global economic growth triggered a selloff in risk assets like commodities.