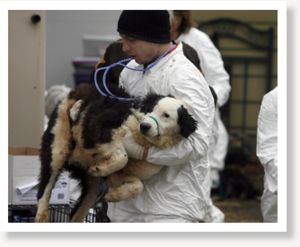 Schneider, Indiana - After wading through a foot and a half of animal feces, Detective Michelle Weaver stared in disbelief at a freezer full of individually plastic-wrapped canine carcasses. She said this was worse than she could have imagined.
Lake County Sheriff's Department investigators executed a search warrant on allegations of animal abuse and neglect on Friday at a residence on the 7800 block of 245th Street.
It was impossible for police to operate in the home without protective suits and face masks. The stench wafted uphill in the wind as they opened the front door. Sheriff's deputies said they could smell the odor more than 500 feet from the home.