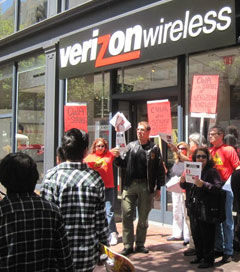 The picket lines are up. This past weekend 45,000 Verizon workers on the East Coast, represented by the Communications Workers of America (CWA) and the International Brotherhood of Electrical Workers (IBEW), went on strike. The cause of the strike was the company's attempts to win massive concessions from the unions. Verizon argued that the employees should give up gains they had won over many years of struggle and negotiation in previous contract fights.
As the
Wall Street Journal
put it
, "Verizon Communications Inc. is seeking some of the biggest concessions in years from its unions." Demands include the weakening of health-care benefits, cuts in pensions, reduced job security, and elimination of paid holidays such as Martin Luther King, Jr. Day. This despite the fact that the company reported billions in profit last year, and that, in
the words
of
New York Times
reporter Steven Greenhouse, "Verizon's top five executives received a total of $258 million in compensation, including stock options, over the last four years."
The unions argue that Verizon has made some $20 billion in profit in the same time period, and Citizens for Tax Justice has pointed out that the company has done so while paying little to nothing in corporate income taxes.