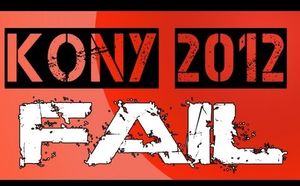 Few heed campaign's call to cover cities across the world with posters and murals of wanted Ugandan warlord
The Kony 2012 Cover the Night campaign woke up to awkward questions on Saturday after activists failed to blanket cities with posters of the wanted Ugandan warlord, Joseph Kony.
The movement's phenomenal success in mobilising young people online, following last month's launch of a 29-minute documentary which went viral, flopped in trying to turn that into real world actions.
The campaign aimed to plaster "every city, on every block" around the world with posters, stickers and murals of Kony to pressure governments into hunting down the guerrilla leader, who has waged a brutal, decades-long insurgency in central Africa.
But paltry turnouts on Friday at locations across north America, Europe and Australia left cities largely unplastered and the movement's credibility damaged. "What happened to all the fuss about Kony?" said one typical tweet. "Kony is so last month," said another.