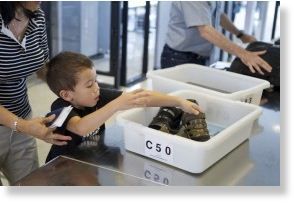 It turns out that children do not actually merit all the fuss the Transportation Security Administration has made over them since the shoe bomber tried to blow up an airliner almost 10 years ago.
So in a welcome step for little feet and parents, children 12 and younger are no longer required to remove their shoes every time they go through airport security.
Kids also are less likely to face pat-downs under newly revised rules. It is part of an effort to show Congress that the agency is getting serious about replacing a one-size-fits-all security program with a more risk-based approach that relies on gathering intelligence and terrorist watch lists to determine the level of scrutiny each passenger receives.
"Intelligence and history have shown that allowing (young) passengers to leave their shoes on poses little risk," the TSA said.
Children who at the discretion of TSA screeners appear to fall in the 12-and-younger category can keep their shoes on during security.
"We travel with 2 1/2-year-old twins, a stroller, two car seats and our carry-ons. So not having to take the boys' shoes off definitely made things a lot easier," said Tracey Fine, 33, of Chicago's Wicker Park neighborhood, who recently flew from Midway Airport to Houston and back with her husband and their sons.