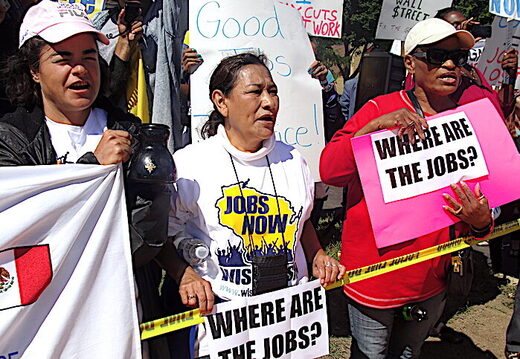 Unemployment creates exploitation of workers
Employers favour unemployment because unemployed workers have to accept poorly paid jobs to be able to feed their families. A higher unemployment rate produces cheaper labour. Unemployment is not difficult to maintain because employers most often do not necessarily need to hire employees. Big employers support political parties that keep unemployment through economic policy.
It starts with importing cheap labour and ends with rising interest rates.
This is how unemployment becomes a state policy and how state policy maintains the exploitation of workers.
All the exploitation of workers has its origin in unemployment.
I wrote more about it in the article:
Let's remove unemployment
.
The rich people have imposed believing that unemployment is an unavoidable price that must be paid for technological development.
They have pressured economic science to accept that
0% of unemployment is not a positive thing
,
which they accomplished.
The capitalists have found
an unemployment rate of about 5% the most convenient to them
so that 5% of unemployment has become a "normal" state in capitalism. This "normal" state makes workers dependent on capitalists. It allows the exploitation of workers through low labour costs, while the total purchasing power of workers is still large enough to produce profits for private companies. However, such a policy has enlarged the gap between rich and poor what increases problems in society.