Astronomers at the University of Hawaii at Manoa have discovered a new comet that they expect will be visible to the naked eye in early 2013.
Originally found by the Pan-STARRS 1 telescope on Haleakala, Maui, on the night of June 5-6, it was confirmed to be a comet by UH astronomer Richard Wainscoat and graduate student Marco Micheli the following night using the Canada-France-Hawaii Telescope on Mauna Kea.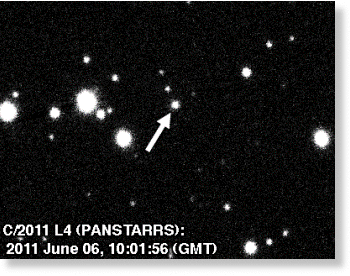 A preliminary orbit computed by the Minor Planet Center in Cambridge, Mass., shows that the comet will come within about 30 million miles of the sun in early 2013, about the same distance as Mercury. The comet will pose no danger to Earth.
Wainscoat said, "The comet has an orbit that is close to parabolic, meaning that this may be the first time it will ever come close to the sun, and that it may never return."
The comet is now about 700 million miles from the sun, placing it beyond the orbit of Jupiter. It is currently too faint to be seen without a telescope with a sensitive electronic detector.