The third near-earth asteroid of 2011 will pass between the moon and earth later this year, NASA has confirmed.
The 575-foot-wide (175 metres) asteroid, which is more than one and a half times the length of a soccer pitch, will pass within 0.85 lunar distances of the Earth on November 8, 2011.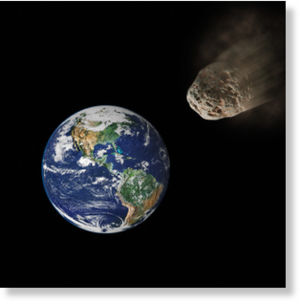 Discovered on December 28, 2005 by Robert McMillan of the Spacewatch Program near Tucson, Arizona, 2005 YU55 is believed to be a very dark, nearly spherical object.
According to NASA's Near Earth Object Program: "Although classified as a potentially hazardous object, 2005 YU55 poses no threat of an Earth collision over at least the next 100 years. However, this will be the closest approach to date by an object this large that we know about in advance and an event of this type will not happen again until 2028 when asteroid (153814) 2001 WN5 will pass to within 0.6 lunar distances."
See Trajectory of Asteroid
here
.