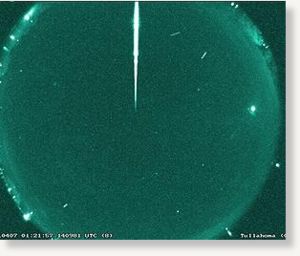 Did you see a bright flash in the sky over Tullahoma, Tenn., last night? Have we got a scavenger hunt for you...
At approximately 08:21:57 p.m. CDT on April 6, 2011, NASA all-sky meteor cameras located at the University of Tennessee Space Institute, in conjunction with the Hands-On Science Center in Tullahoma, Tennessee, and at the Walker County Science Center in northwest Georgia detected a very bright fireball moving north across the state of Tennessee.
First detected 52 miles above the Arnold Air Force base near Tullahoma, the meteor was brighter than crescent moon and was approximately two feet in diameter, with a weight of 200 lbs. It was last recorded 30 miles above the town of Woodbury, Tenn., moving at a speed of approximately nine miles per second, or 32,400 mph.