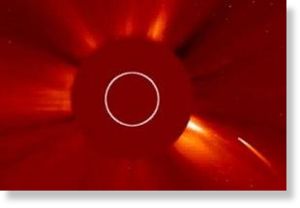 Perhaps upset that it's so hard to find a mate in the unimaginable barrenness of space, a lone comet wandered into the Sun yesterday and has not been seen since. (Follow the jump for multiple angles of its fiery demise.)
The deceased likely belonged to the suicidally depressed Kreutz comet family.
Astronomer Heinrich Kreutz theorized in 1888 that many sun-diving comets were once part of a larger, cohesive comet up to 66 miles wide that separated in a traumatic breakup centuries ago.
Now the Kreutzian children rove the solar system, flirting with annihilation by buzzing the scalding zone around the sun.
A few, like the 1882 "Super Comet" and 1965's Ikeya - Seki, obtain lasting glory by lighting up like a disco ball in hell, a spectacle visible from Earth during the daytime. But most are silently consumed by the furious and insatiable Sun, a steady procession of cosmic nullifications ignored by the average human.
Astronomers estimate that the solar system harbors more than 1,600 comets with paths perilously close to the solar touch of death.