On the night of Dec. 13/14, NASA's
All-Sky Meteor Network
recorded 35 fireballs streaking over the southern USA. Twenty-two of them had remarkably similar orbits: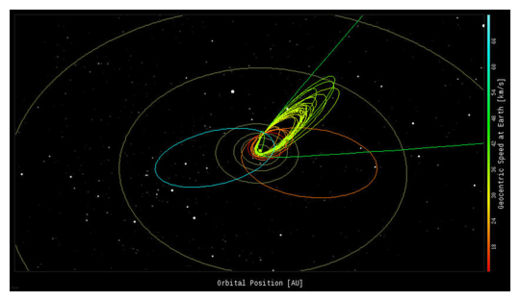 The clustered green orbits match the trajectory of near-Earth asteroid 3200 Phaethon, source of the annual Geminid meteor shower. The Geminids have been active this week as Earth passes through the asteroid's
mysterious
debris stream. The other, non-Geminid orbits correspond to random meteoroids. Not belonging to any organized debris stream, random meteoroids litter the inner solar system and produce a daily drizzle of "sporadic" fireballs.
NASA's fireball network, which connects multiple cameras in New Mexico, Alabama, Georgia and Tennessee, is a "smart" system. It rapidly and autonomously calculates meteoroid orbits from the fireballs it records. Another orbit diagram is just hours away; stay tuned.