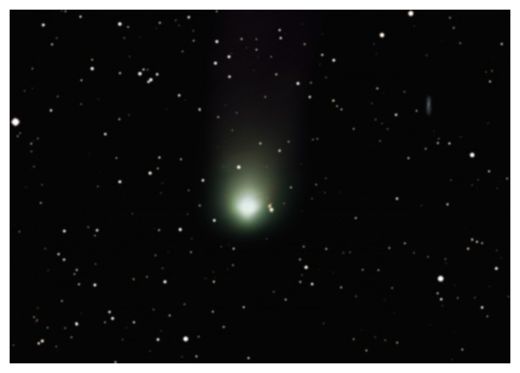 If you haven't already, it's time to start looking for Comet Garradd! This comet, with the nomenclature C/2009 P1, is now coming into small telescope/binocular view so here's your chance to see the brightest comet in the current night sky. You can find it in the late evening sky in the constellation Pegasus. Viewing it now, Garradd is just coming out the "fuzzball" stage, and its tail is just coming into view.
Some say it's much better looking than that other comet, Elenin, that has been needlessly grabbing some headlines. Comet Garradd was discovered two years ago by Gordon Garradd from the Siding Spring Observatory in Australia, and is currently visible through a small telescope at about magnitude nine.
Above is an image of Comet Garradd from
Peter Lake (aka Astroswanny)
from Australia.