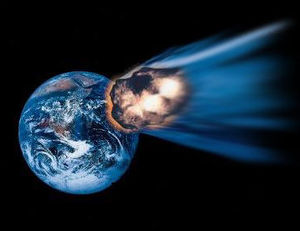 An asteroid a little smaller than the CN Tower is hurtling toward earth and astronomers have their cameras ready for a spectacular glimpse.
Called 2005 YU55, the asteroid will nudge closer to earth than the moon, passing by just 325,000 kilometres away.
Although modern technology will give astronomers the best-ever look at the travelling piece of cosmological history, there is no fear it will actually smack into earth.
"At one time we had classified 2005 YU55 as a potential threat," said Steve Chesley, a scientist at NASA Jet Propulsion Laboratory's Near-Earth Object Program Office.
Radar tracking last month, with the asteroid 2.3 million kilometres away, meant "we were able to rule impacts out entirely for the next 100 years."