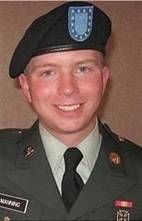 Military also denies allegations that Bradley Manning is being mistreated
U.S. military officials tell NBC News that investigators have been unable to make any direct connection between a jailed army private suspected with leaking secret documents and Julian Assange, founder of the whistleblowing website WikiLeaks.
The officials say that while investigators have determined that Manning had allegedly unlawfully downloaded tens of thousands of documents onto his own computer and passed them to an unauthorized person, there is apparently no evidence he passed the files directly to Assange, or had any direct contact with the controversial WikiLeaks figure.
Assange, an Australian national, is under house arrest at a British mansion near London, facing a Swedish warrant seeking his extradition for questioning on charges of rape. Assange has denied the allegations.
WikiLeaks' release of secret diplomatic cables last year caused a diplomatic stir and laid bare some of the most sensitive U.S. dealings with governments around the world. It also prompted an American effort to stifle WikiLeaks by pressuring financial institutions to cut off the flow of money to the organization.