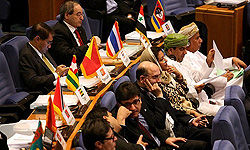 Syria's National Reconciliation Minister Ali Heydar blasted Turkey, Saudi Arabia and Qatar for practicing the western and Israeli policies in the region.
"Turkey, Saudi Arabia and Qatar put the policies of the West and Israel into effect in the region," Heydar told reporters in a press conference here in Tehran on Monday, and added, "There is a great difference between those who present a plan against Syria, that is the US and Israel, with those who practice these plans, that is, Turkey, Qatar and Saudi Arabia."
He voiced his country's anger at the three regional states, and said, "We believe as long as the US policy on Syria remains unchanged, these states won't change their policies either, and this status will continue until after the US presidential election."
Heydar, who is in Tehran to attend a summit meeting of the Non-Aligned Movement (NAM) from August 26 to 31, further underlined Syria's strong confrontation against terrorist and armed rebel groups.