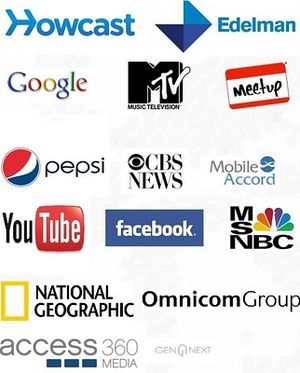 In 2008, the Alliance of Youth Movements held its inaugural summit in New York City. Attending this summit was a combination of State Department staff, Council on Foreign Relations members, former National Security staff, Department of Homeland Security advisers, and a myriad of representatives from American corporations and mass media organizations including AT&T, Google, Facebook, NBC, ABC, CBS, CNN, MSNBC, and MTV.
http://allyoumov.3cdn.net/f734ac45131b2bbcdb_w6m6idptn.pdf
One might suspect such a meeting of representatives involved in US economic, domestic and foreign policy, along with the shapers of public opinion in the mass media would be convening to talk about America's future and how to facilitate it. Joining these policy makers, was an army of "grassroots" activists that would "help" this facilitation.
Among them was a then little known group called
"April 6" from Egypt
. These Facebook "savvy" Egyptians would later meet US
International Crisis Group trustee
Mohamed ElBaradei
at the Cairo airport
in Februrary 2010 and spend the next year campaigning and protesting on his behalf in his bid
to overthrow the government
of Egyptian President Hosni Mubarak.
The Alliance of Youth Movements
mission statement
claims it is a not-for-profit organization dedicated to helping grassroots activists to build their capacity and make a greater impact on the world. While this sounds fairly innocuous at first, even perhaps positive, upon examining those involved in "Movements.org," a dark agenda is revealed of such nefarious intent it is almost difficult to believe.