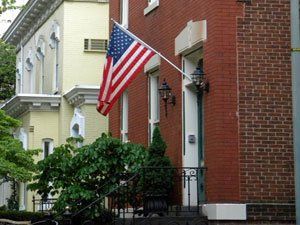 A misguided view of Christianity is chipping away at fundamental American principles, according to a new book about a shadowy religious/political organization in Washington, D.C.
Jeff Sharlet
, in the new book
C Street: The Fundamentalist Threat to American Democracy
, shows how the group known as "The Family" influences foreign policy, the military, and other key elements of our government.
Based on personal experience, I would say a C Street-like mindset has invaded our courtrooms and corrupted our justice system at all levels. We also suspect that many boardrooms, and even universities, are infected with a values system that gives elites exalted status over everyday folks. In the end, this bastardized form of religion might pose a greater threat to America than Osama bin Laden ever could.
This is Sharlet's second book about C Street. In 2008, he wrote
The Family: The Secret Fundamentalism at the Heart of American Power
. In an
interview
about his new book, with Scott Horton of Harper's, Sharlet provides some frightening insight into the C Street mindset. Much of it is based on a relatively obscure passage from the Bible, Acts 9:15: "This man is my chosen instrument to take my name... before the Gentiles and their kings."
The original passage was about the Apostle Paul. But members of The Family evidently think it applies to them. Horton asks, "How do the men who gather at C Street interpret this passage?" Replies Sharlet: