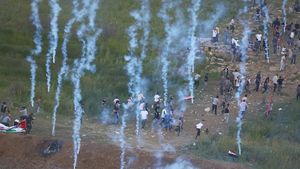 Israel faces a new attempt to breach its border with Syria after weekend confrontations on the Golan Heights left several people dead and scores injured.
Protesters who tried yesterday to break through the border were preparing for their third attempt in three weeks.
Syrian state television claimed 20 protesters were killed and the Israel Defence Forces said the figure was more likely to be 10.
It said thousands were making their way towards the border and many were sleeping at the site in preparation for another attempt tonight.
Clashes also occurred yesterday for several hours between Israeli soldiers and Palestinian protesters between Jerusalem and Ramallah.