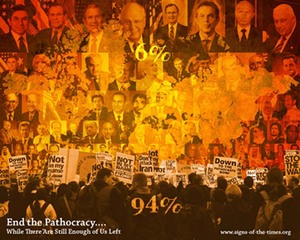 News that that a swarm of termites deep inside the British banking system have been fiddling the interbank interest rates (LIBOR) for years in order to systematically vacuum a few billion pence off the exchange floors for themselves is the latest blow to the credibility of the global money system - and probably a fine overture to a looming climactic implosion of the gigantic, creaking, smoldering, reeking, duck-taped edifice of broken promises, booby-trapped hedge obligations, counterparty follies, central bank euchres, sovereign flim-flams, and countless chicanes too various, dark, and deep to smoke out.
Next, we'll probably hear that Lloyd Blankfein over at Goldman Sachs has been tinkering with the rotation of the earth in order to gain a few micro-milliseconds of advantage in his firm's high frequency trading rackets. After all, back in 2008 Lloyd himself claimed to be "doing God's work."
In short, world banking is now hopelessly pranged, and I am not at all sure the project of civilization (modern edition) can continue by other means. The impairments of capital formation are now so profound that no one and nothing can be trusted. Not only are all bets off, but nobody will want to make any new bets - and by that I mean venture to invest accumulated wealth (capital) in some useful project designed to sustain human well-being. What remains is just the desperate hoarding of whatever remains in assets uncontaminated by the pledges of others to pony up.
All this points to a dangerous new period of political history, a deadly Hobbesian scramble to evade the falling timber in a burning house as the rudiments of a worldwide social contract go up in flames. Such is the importance of legitimacy: the basic condition for governance, especially among supposedly free people. You can meddle in a lot of distributory issues - who gets what - but when you mess with the most basic operations of money to the extent that no one is sure what it's really worth, or what it represents, then you are deeply undermining society. This is now the condition that is set to blow up republics.
Reality dislikes fraud and accounting tricks. Reality is serious about settling scores. Reality eventually intervenes and puts an end to monkey business. What will it be this time?