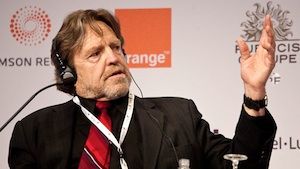 "I just arrived at the Tuileries for the #eG8, already a hoot. Unfounded smugness to rival the World Economic Forum."
John Perry Barlow - EFF co-founder, Grateful Dead lyricist, and, improbably, now a rancher - arrived in Paris and began
tweeting up a storm
from the
e-G8 summit
gathered there this week to discuss the future of the Internet.
After listening to French President Nicolas Sarkozy call repeatedly for Internet regulation and more copyright protection, Barlow added, "You'd have thought from Sarkozy's talk he was addressing a convocation of Anonymous and the Pirate Party. He wasn't."
And then it was his turn to take the stage: "I am about to enter the Lion's Den at #eG8."